Member profile: Cranstons, Butcher and Maker
Cranstons have come a long way since Stanley Cranston delivered meat to customers in the northern Eden Valley on his horse and cart over a century ago. Cranstons now have four Food Halls and two traditional butchers shops throughout Cumbria. Still a family business, Cranstons talked to Craft Butcher about their business today and how they stay true to their values whilst staying ahead of the competition.
1. How important do you feel it is for butchers today to offer more than simply fresh meat?
It's increasingly important. Traditional butchers like us need to adapt and differentiate ourselves in order to remain competitive and meet the changing needs of our customers.
The supermarkets all seem to offer the same simple range of meat staples, looking at the supermarket shelves, people might think cows, lambs and pigs only produce legs, chops and steaks! Our range is much broader and artisan than a supermarket – and customers love it. We try to be an anti-dote to the generic experience people get when they visit a supermarket.
Alongside offering a bespoke range of meat, deli and bakery products, we offer food and drink from over 100 Cumbrian producers. Our commitment to local is really what differentiates us from the competition from supermarkets.
2. How does the customer base vary across your different businesses?
Cranston's have a very diverse and strong customer base in Cumbria, which includes both local residents and tourists visiting the region. We serve 20,000 people a week during peak trading times across our six retails sites in Cumbria. This includes local customers who value locally sourced, high quality meat products and prioritise supporting local businesses, as well as tourists who are interested in trying local specialities,
Key to our success is our higher spend 'foodie' customers who are passionate about scratch cooking and enjoy trying new and unique local products. We aren't just a 'high days and holidays' business though and it's important we appeal to families and less affluent shoppers. Keeping our sausage, bacon, beef mince and chicken prices fair is key to keeping these important customers.
The commonality among Cranston's customer base is a shared appreciation for quality locally sourced produce. This aligns with the growing awareness customers have of the need to make more sustainable and ethical food choices.
3. Do you know how far your customers travel to shop at Cranston's food halls and shops?
Cranston's have a strong understanding of our customer catchment thanks to our postcard marketing campaigns. We send promotional postcards to all the residential properties in postal sectors around our shops via the royal mail. Each postcard has a barcode on unique to the postal sector and we can track redemption through the tills. Through data the cards generate we can see that within a 10 miles radius 20% of the local population shop with us, the percentage of population holds up above 10% between 10 and 15 miles but drops below 10% after 15 miles. Some of our sites also have a strong tourist trade, we know that a third of customers in our flagship Cumbrian Food Hall's café during high summer are tourists.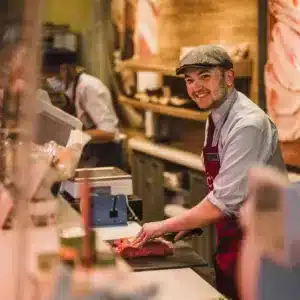 4. Can you tell us a little about how you source products?
All our beef and lamb is sourced from trusted local farms within a 30-mile radius of our shops. We buy beef direct from just 4 farms all of whom we have worked with for over a decade. Our lamb is bought through local auction marts. We are lucky to operate in an area renowned for the quality of its beef and lamb farming. Local pork supply is more challenging, our aim on pork is to ensure it comes from a bordering county.
In addition to our local meats our food halls really benefit from access to Cumbria's thriving artisan food scene. We aim to give start up businesses shelf space and access to customers who want to experience the region's food.
5. Congratulations on winning the Best Company Training Scheme award at the Institute of Meat and Worshipful Co. of Butchers Annual Prizegiving in February. Can you tell me more about your apprenticeship scheme?
Thank you! It is exciting to be recognised at a national industry event. The judges praised our consistent record of creating quality career opportunities and for our track record of producing highly skilled butchers. More than 80% of the Cranston's butchery team, including our MD and all our current shop managers started as apprentices.
Cranston's butchery apprentices cover health and safety, hygiene and customer service alongside more specific butchery modules on handling a beef, lamb or pork carcass. We have a mixture of school leavers and mature apprentices. Several of Cranston's mature apprentices are ex chefs, fed up with the shift patterns but keen to train as butchers as they still want to work with great food.
Cranston's apprentices get to experience the full supply chain as the company deals directly with local farms and receives whole carcasses in their production unit. They benefit from exposure to both production butchery and retail butchery and are encouraged to spend time in different parts of the business developing all round knowledge.
6.Cranstons have regularly picked up awards for their products. – the most recent being the Great Taste Awards last year, where you picked up four awards. What are the benefits to businesses in entering product awards and do customers really notice?
Winning an award can generate a real buzz and publicity for the business, it showcases our products to a wider audience. When we flag awards in the local press, on social media and with eye catching POS – sales do increase. The other really great thing about winning awards is seeing our hard-working team's skill and dedication recognised. It's a real morale boost.
7. In the latest issue of Craft Butcher we're looking at cooked meats and deli. What is Cranston's best-selling product in this area and what makes it so special?
Our most popular deli product is our rustic caramelised onion sausage roll. Our famous Cumberland sausagemeat is combined with sweet onion chutney and encased in puff pastry. The ends of the sausage meat caramelise in the oven, so they are sweet and crunchy delicious!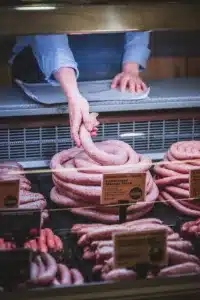 8. What changes did you make during Covid which have now become part of your normal operations?
We expanded our website offering to ensure people could buy a wide range of our products online and set up a click and car park collect. The latter has now been mothballed with the return of on-premise shopping but we still use the enhanced web shop with its live stock system for taking Christmas orders. This saves a huge amount of time in the shops and also means we have live visibility on stock levels. We were worried we would lose the opportunity to upsell but find people order more items when they order online as we have strong product photography, and they feel less rushed browse the ranges.
A lot of our pandemic marketing focused on the skill and dedication of our local suppliers and our production and shop teams- the people behind our products. This is something that we have retained within our marketing mix. Shifting from a product focus to a people and product focus in marketing has worked really well for us. It comes back to that well known phrase 'people buy from people' and gives the brand more personality.
9. Lastly, what do you value most about being a member of National Craft Butchers? National Craft Butchers help to shine a light on the craft skills and expertise of Britain's independent butchery sector. In a very competitive market place a lot of us independents are fighting the supermarkets for a share of people's food expenditure- it can sometimes feel like a David and Goliath situation. Through NCB we can access a network of experienced butchers and meat industry professionals, gaining knowledge, tips, and advice. It's great to feel like we are part of group of independents and not working in isolation. As a member Cranstons has a voice in the industry and can contribute to discussions and decision-making around issues affecting the meat industry, such as animal welfare, sustainability, and regulation.