In her New Year message, the Chair of Hybu Cig Cymru – Meat Promotion Wales (HCC) Catherine Smith said the unexpected events of the past 12 months have highlighted the need to support sustainable domestic food production in 2023 to help ensure food security.
Looking back at the start of 2022, she said that no-one had anticipated Russia's invasion of Ukraine and the tragic war which ensued, as well as its profound impact on the global food sector and prices.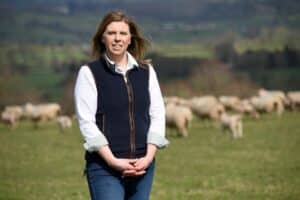 "Here in Wales, these are tough times for farmers and consumers alike due to the squeeze on the cost of living," said Catherine Smith. "However our thoughts are also with the farmers and communities of Ukraine, who are suffering unimaginably."
She added, "As well as the profound human cost, a war on the European continent has highlighted the fragility of global food systems; the loss of so much Ukrainian grain and other produce has had a serious impact far beyond its borders.
"It's compelled us as a nation to look with fresh eyes at how we can ensure that consumers here can have a dependable supply of affordable, quality food, and how we need to support our farmers," said Catherine.
The HCC Chair thanked British shoppers for their support, and highlighted HCC's work in leading the Welsh red meat sector to produce even more efficiently and sustainably.
"All the evidence shows that consumers trust and support our farmers, and understand that we're striving towards world-leading standards of quality, sustainability and traceability," said Catherine Smith.
"We have the perfect landscape and climate to produce lamb and beef in the most environmentally-responsible way possible. We have a responsibility to our consumers both home and abroad and to global food security, to take the best advantage of this" explained Catherine. "HCC's priorities for 2023 will be to build on our 'Welsh Way' environmental blueprint by adding to the evidence base for our sustainable methods of production, both to help farmers and to explain our story to consumers."