Top of the Class for Welsh Lamb and Welsh Beef
Welsh red meat promotion body Hybu Cig Cymru – Meat Promotion Wales (HCC) have ramped up their work with schools over the summer term, ahead of the peak season for PGI Welsh Lamb.
As part of their health and education work, the HCC team have been visiting schools and events across Wales and have engaged with over 1,600 school children.
Teaming up with Castell Howell, HCC took part in the Pembrokeshire Food Story where over 1,000 local school children learned about food and farming in Wales. Children made PGI Welsh Beef kebabs using local ingredients and learned about how livestock farming in Wales is more sustainable than other parts of the world, as well as understanding some of the main nutrients Welsh red meat provides.
HCC also took their cookery trailer and delivered fun cooking sessions at the National Sheep Association Event which took place in Aberhafesp, near Newtown where hundreds of local school children took part in a farm to fork trail around the event.
HCC also took part in the National Education Show in Llandudno, sharing their latest food and farming teaching resources with local teachers and educators. Over 500 teachers attended the event and HCC showcased its dedicated education website www.redmeathub.wales which provides free, bilingual lesson plans and resources for teachers from Key Stage 1 up to Key Stage 4. HCC has also partnered with the Countryside Classroom, an online resource platform for teachers established by LEAF (Linking Environment and Farming).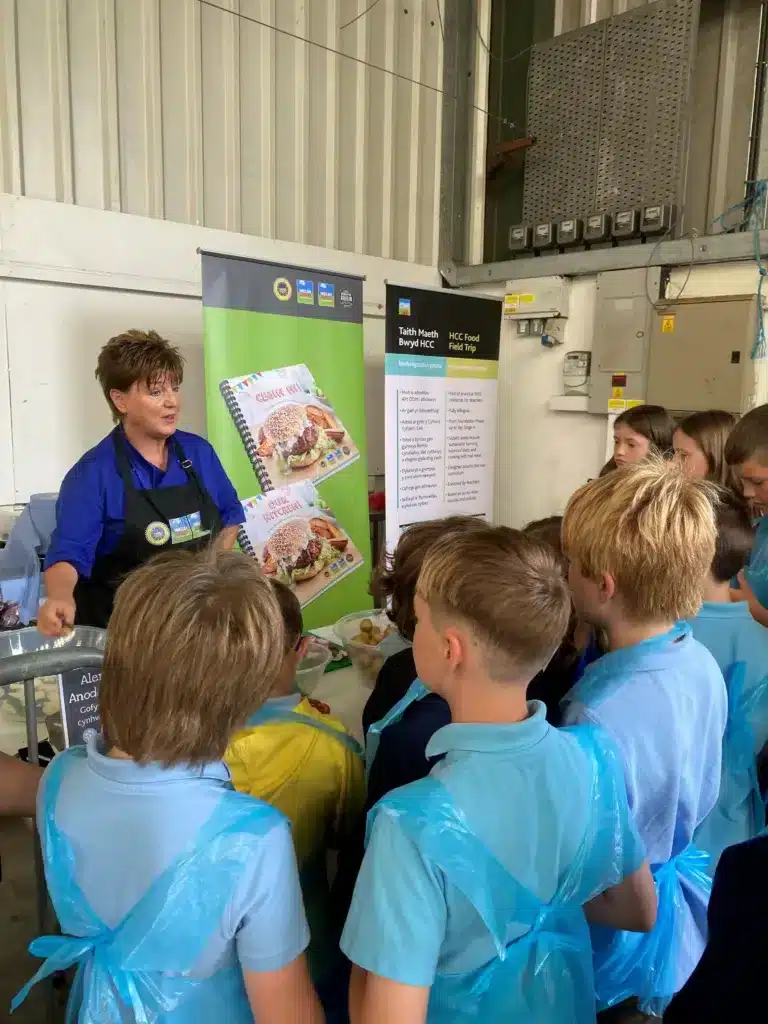 HCC's Consumer Executive, Elwen Roberts, who leads on work with schools explained 'We have had a busy summer term engaging with schools and educators across Wales, taking the red meat message directly to teachers, schools and the next generation.'
'Red meat can play an important role in a balanced diet and healthy lifestyle, and Welsh red meat in particular is produced in a sustainable and environmentally responsible way.'
HCC have also recently partnered with Welsh Athletics as part of a 'Healthier Wales' partnership. Working together with some of Wales' star athletes, the HCC team have been visiting schools around Wales with champion athletes Aled Siôn Davies, Hannah Brier and Osian Jones offering food and fitness sessions to school pupils. The partnership was launched at the Senior Schools Track & Field Championships in Cardiff where HCC engaged with young athletes and their families, highlighting the natural protein available in Welsh red meat products.
Elwen continued 'Between our work with Welsh Athletics, the Pembrokeshire Food Story and the NSA event, we have engaged with over 1600 school children in Wales.'
'Our work within the education sector in Wales is a core part of HCC's mission. Welsh red meat can form a key part of a balanced diet and healthy lifestyle and we look forward to continuing our important work in this area in the new school year.'