Taste of patriotism! The iconic British beef roast
Great British Beef Week (GBBW) is returning for a 13th year to celebrate 'naturally delicious' British beef, renowned around the world for its quality and sustainability.
Kicking-off on St George's Day ahead of the King's Coronation, there's never been a better time to enjoy one of the nation's most iconic meat dishes – the British beef roast.
Families are being encouraged to celebrate their patriotic pride with a Sunday roast, or even an easy mid-week meal, as well as making the most of leftovers in their packed lunches.
Launching on Sunday, April 23 and continuing to Sunday, April 30, GBBW will see farmers, processors, retailers, butchers and chefs unite once again to share recipes, real-life farming stories and infographics on social media and in the press, as well as industry promotions on beef packs, on counter, on menu and in-store.
The brainchild of Ladies in Beef, a voluntary organisation of female beef farmers co-founded by Devon producer Jilly Greed and NFU President Minette Batters, GBBW brings everyone together to champion Red Tractor assured British beef in a week-long celebration of quality, taste and our world-leading farming credentials.
Jilly Greed said: "We have one of the most sustainable beef production systems in the world. Using the natural resources of grass, plentiful sunshine and rain we produce highly nutritious British beef that is a natural source of iron and can be very much part of a balanced diet."
Once again, the week-long celebration is supported by AHDB, Red Tractor, the National Farmers Union and RABI.
AHDB Marketing Manager Louise Woodward said: "This year, with the King's Coronation taking place, there will be plenty of opportunities for the British public to celebrate their patriotism as part of Great British Beef Week.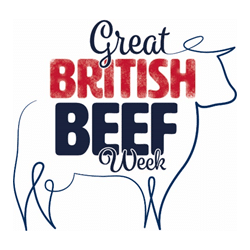 "We want to celebrate delicious locally reared British beef, which is among the most sustainable in the world. The UK has one of the most climate friendly and sustainable beef production systems in the world.
"This GBBW, we want to connect the great taste of British beef with our UK farming credentials. And with the launch taking place on St George's Day and the coronation of the new King shortly after, we hope there will be a real strong element of celebration and pride during this year's event."
To get involved in this year's GBBW by hosting your own event or activity, please contact domestic.marketing@ahdb.org.uk to access any of our supporting marketing materials.
For more information about GBBW 23 (April 23 – 30) visit www.ladiesinbeef.org.uk