New member profile: Frank Family Butchers, Thirsk
Simon Frank and partner, Anna Prince, are not only new National Craft Butcher members but are also new business owners, having opened Franks Family Butchers just six months ago.
Simon (insert age) is no newbie when it comes to butchery though, having worked as a butcher all his life. He honed his butchery and business skills for a decade at Kendall's Farm Butchers, Pateley Bridge, where he says he 'learned a lot' and helped prepare him to take the next step and run his own shop.
Joining Simon in the business is partner, Anna and their new 'apprentice' Tom. Both are new to butchery but learning fast. Anna has already mastered some basic boning and rolling techniques and is adept at sausage making. Currently Tom is focussing on learning on the job, but Simon is considering whether to enrol Tom on the Butcher Standard Apprenticeship in the coming months.
Starting out right
Modestly describing the shop as a 'fairly traditional meat and two veg' butchers, Simon stresses that he's 'keen to add to the business but not take anything away'. His commitment to ensuring that first and foremost he gets the basics right is demonstrated in his commitment to sourcing locally and where possible, buying live.
'I'm a community butcher and want to support the local economy, keep the food miles down and make the circle of supply as small as possible. I'm proud to be doing this and feel my customers value it too.'
Traceability and high animal welfare are, Simon feels, more important than ever to consumers. He makes a point of being open about where his meat is from on a weekly basis and wants customers to feel they can ask.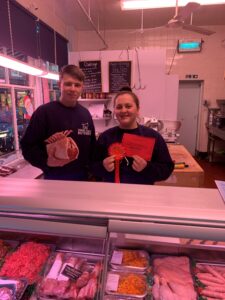 Establishing a fan base
The shop produces a range of high quality kitchen ready products and adds in some seasonal specialities, such as venison shot on local estates, to add interest and complement their core range.
Simon believes Facebook is a 'massive attribute' to the business. The channel is helping build their customer base and Simon has many examples of where having advertised a freshly made product on Facebook, within an hour or two customers have come in to buy it.
Thinking ahead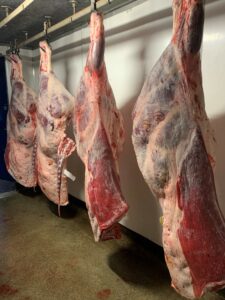 When asked how the business plans to weather the storm of the cost of living crisis Simon says he hopes that focussing on what he as a butcher can do best; offer personal, friendly service and good value top quality meat, will see them through.
Having two young children himself though, Simon acknowledges that these are tough times for families. To help with tight family budgets he periodically offers special packs, enabling families to make savings on popular products. During the school holidays he's offered 'family meat packs' containing a weeks' worth of meat products for a family of four at a keen price. As families are using their freezers more to take advantage of offers and enable batch cooking he's also offered a 'freezer box' with £50 worth of product for just £30. The family meat packs sold especially well so the business may re-introduce them at some future point.
At the moment the vast majority of Simon and Anna's custom is retail, and though there's potential to supply more foodservice customers as Simon says,
'We're just focusing on getting rolling first. As the saying goes, you have to walk before you can run!'
---
As featured in the January/ February 2023 issue of Craft Butcher magazine