Great British Beef Week's success at encouraging consumers to enjoy naturally delicious British beef
The highly successful Great British Beef Week (GBBW) campaign, led by AHDB, encouraged consumers to enjoy the naturally delicious flavours of British beef, which is among the most sustainable in the world.
The campaign achieved 98% positive media sentiment by encouraging people to reimagine the traditional beef roast and put their own twist on the British classic.
The week-long celebration of British beef's quality, taste, and world-leading farming credentials ran from 23–30 April 2023, garnering extensive media coverage, including on prominent platforms such as BBC News and ITV News, reaching an estimated 18 million people.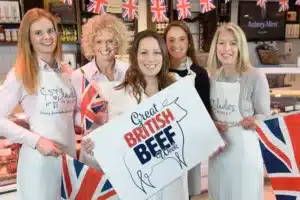 Marketing strategies, including social media initiatives, recipe videos, in-store supermarket promotions, and collaborations, were employed to promote the campaign. Ten case study placements were also secured across regional and national titles, spanning various UK regions.
A highlight of the campaign was the 'Roast Beef Reimagined' initiative collaboration with National Farmers Union (NFU) President and Ladies in Beef co-founder, Minette Batters, which featured across online and social channels. Three unique social media influencers also increased awareness and encouraged people to celebrate by enjoying a traditional beef roast dinner with a twist.
Featuring a range of assets, the campaign reached a diverse audience, with the social influencer content achieving 100% positive sentiment. On Facebook, the campaign generated 1.5 million impressions, reaching over a million users. Activity sheets were also created for children and distributed to butchers, farm shops, and through National Trust partner farms for school visits.
Carrie McDermid, Head of Marketing at AHDB, said: "This year's Great British Beef Week marketing campaign surpassed our expectations in terms of consumer engagement. The remarkable reach and media coverage, coupled with the support from esteemed organisations such as Ladies in Beef, Red Tractor, NFU, The Royal Agricultural Benevolent Institution (RABI), and Hybu Cig Cymru, demonstrate the effectiveness of collaborating with industry stakeholders."
The GBBW campaign was founded by Ladies in Beef to champion sustainable British beef and celebrate the role of British farmers. For more information about the campaign and its achievements, please visit ladiesinbeef.org.uk.