After a five-year hiatus, Foodex Manufacturing Solutions will be back at the NEC, Birmingham this April (24th – 26th), as part of the UK Food & Drink Shows. Bringing together the very best of the hospitality, manufacturing and grocery, speciality & convenience retail sectors, the shows are set to showcase the very latest products, big thinking, key insights and address key trends through the lens of the developing cost-of-living crisis.
The must-attend event unites Foodex Manufacturing Solutions (incorporating Ingredients), National Convenience Show, Farm Shop & Deli Show and Food & Drink Expo under one roof, giving food and drink professionals 2023's most comprehensive snapshot of the latest developments across multiple industries. Register for a free pass here.
The three-day event is well known for its ability to bring together the great and the good from the industry's diverse sectors with innovative exhibitors, hot-topic seminars and business-changing awards central to the shows' unparalleled line-up.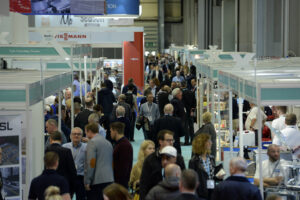 Visitors to Foodex Manufacturing Solutions, the UK's premier trade event for food and drink manufacturing, processing, packaging and logistics, will leave with heightened awareness of the sector's technology, automation and sustainability capabilities. With face-to-face business back in full swing, buyers will once more have the opportunity to connect with potential suppliers and troubleshoot problems through various interactive events and discussions.
Andrew Reed, Managing Director – Wine & Exhibitions, William Reed, said: "The knock-on effect of the pandemic has meant that the manufacturing sector has not been able to come together in person in five years. When it returns to the NEC in April some of the incredible developments that have been made in this specialist sector will be plain to see. Whether you're looking for a simple solution to an existing problem or a product at the vanguard of innovation, there'll be an answer for you at Foodex Manufacturing Solutions.
"The UK Food & Drink Shows are historically an event in which industry professionals can regroup, dissect problems, and share ideas. Our industry's spirit was laid bare throughout the Coronavirus pandemic, now – as we face yet further challenges, namely the cost-of-living crisis – I have no doubt that we will unite once again in April to prove our resilience. Register for your pass today for free here.
Encompassing the entire industry, the UK Food & Drink Shows are unrivalled in their ability to bring people together, build and foster better relationships, discover business building insight and celebrate innovation, all with the support of the multi-award-winning William Reed brand.