Butcher's Shop of the Year & Champion of Champion 2023 revealed
This year's Butcher's Shop awards ceremony was awash with innovation, community spirit and high-quality produce as it celebrated independent UK butchery, with McCaskie's Butchers & Café taking home the grand prize.
The Butcher's Shop of the Year awards look to honour and celebrate quality, commitment and achievement in the UK butchery industry.
This annual event aims to find the best of the best across six regions spanning the UK, as well as rewarding quality displays, online retail, teams and trainees, amongst other notable categories.
Following hundreds of entrants, the expert panel of judges narrowed it down to a handful of well-deserved finalists who waited with bated breath at this year's event at The Bierkeller in Birmingham.
The event was not only a chance for butchery champions to be recognised, but also a fun-filled day which gave way to networking and knowledge-sharing opportunities, and an entertaining and lively Oommpah band which had the entire room moving and shaking.
Kicking the awards off, Bethan Grylls, editor of Food Manufacture and Meat Trades Journal, announced the grand winner of the concurrent awards ceremony Champion of Champions, which looks to crown the UK's best sausage. Judged earlier in person than day, Mark Duckworth of Dales Traditional Butcher took home the title of best banger.
Starting the proceedings for Butcher's Shop were the regional awards, with McCaskie's Butchers & Café awarded the Scottish Butcher's Shop of the Year.Extremely impressed with its outstanding leadership and innovation, McCaskie's were also announced as overall winner of Butcher's Shop.
Commenting on the award, McCaskie's Nigel Ovens said: "I'm just shaking with excitement. To get the Scottish Butcher's Shop of the Year was more than I ever dreamed of and I wasn't even thinking about the next part. To win overall, I can't quite put it into words."
Lishman's of Ilkley took home the North of England prize, with its work in the community being described as "commendable" by the judging panel. Whilst the Midlands & East of England Butcher's Shop of the Year was presented to Essington Farm Shop for its fine example in a truly farm to fork process.
Edwards Of Conwy took the title of best in Wales & West Country, noted for its excellent marketing strategy and staff retention.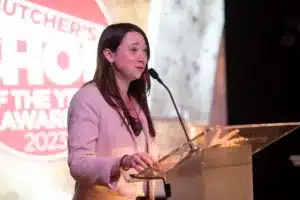 Moving north west, Carnbrooke was awarded the prize for Butcher's Shop of the Year in Northern Ireland, with its superb community engagement wowing the judges.
The final regional award – London and South East of England Butcher's – was given to The Guildford Butchery, with judges impressed by its locally sourced products and social media efforts, as well as its clear strategy around careers and progression. Emphasising its work in this, its very own Cameron Skea also took home Trainee of the Year. Skea showed extreme passion and an in-depth understanding of all the elements that make up butchery, including technical skill as well as good communication.
Up against three other strong contenders, the Sustainability Initiative award was given to Swans Farm Shop for its hard work in integrating sustainability throughout its entire process. The judges said the impact was clear to see, with the company having created not just a great quality product, but opportunity for biodiversity and engagement within the community.
Bates of Atherstone were announced as the best in display, with the judges enjoying the traditional elements of this small but proud shop, while Durslade Farm Shop was crowned as the ultimate specialists.
New Butchery Business of the Year went to Butcher Farrell's Meat Emporium which fought off hard competition. The judges were particularly impressed with the retailer's nurturing of future generations, as well as its sourcing, welfare and sustainable practices.
The Dorset Meat Company.co.uk triumphed in ecommerce, taking home the title for best Online Butchery Business.
Finally, Surrey-based The Dorking Butchery impressed the judging panel with its team work and were presented with Team of the Year.
A big thank you to the sponsors Atlantic Service, Lucas Ingredients, MRC, The Dalesman Group, Tican Chilled and Weddel Swift; as well as to Viscofan, sponsors of Champion of Champions.
---
Champion of Champion – What a banger!
Mark Duckworth of Dales Traditional Butcher takes home ultimate sausage accolade, as his pork and caramel sausage is crowned Champion of Champion at this years award ceremony.
Champion of Champions is the UK's ultimate sausage competition, which invites butchers and manufacturers to present their best bangers.
The event has a rich history, having been launched by Meat Trades Journal in 1984, and features a grand panel of expert judges who inspect and review each entry in an effort to identify the ultimate sausage.
The competition is fierce, with each entry having been declared a champion or finalist in one of the UK's recognised sausage competitions from the previous year – and 2023's line-up was no exception.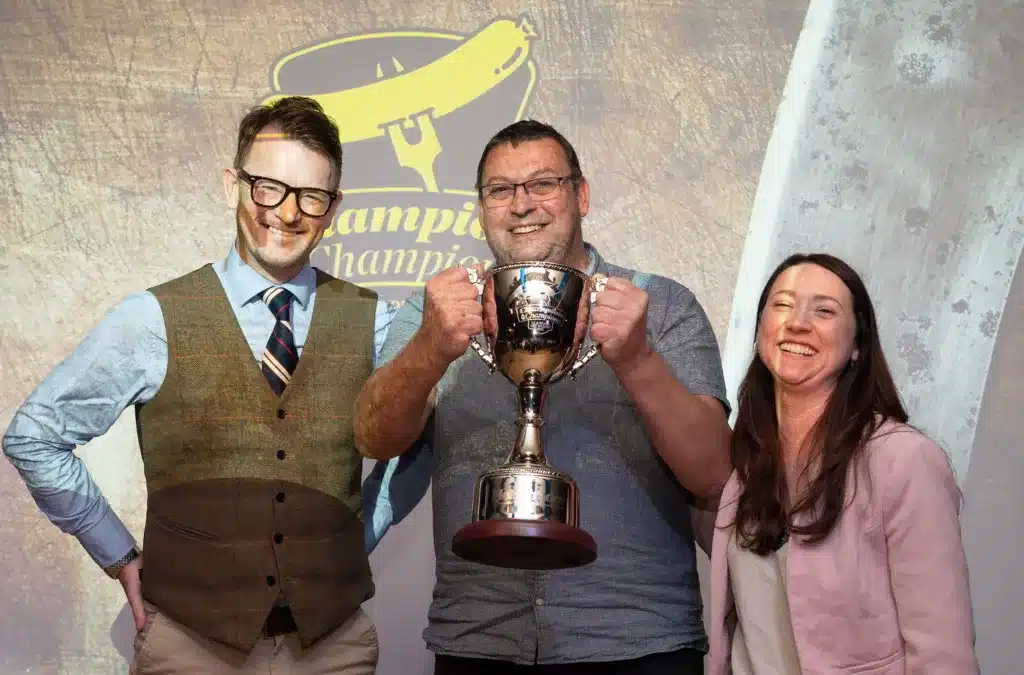 Taking place as part of Meat Trade Journal's prestigious Butchers Shop of the Year, which looks to celebrate and award the best in independent retail butchery, the grand prize for best sausage was awarded to Mark Duckworth of Dales Traditional Butcher with his pork and caramel sausage.
"It's always a difficult decision every year when we come to do Champion of Champions," judge Keith Fisher, CEO of the Institute of Meat said. "You're starting with a 'formula one' grid of sausages. They have all won something – they come here with a pedigree. In fact, one of the easiest ways of judging is to find mistakes within the entries – maybe the length, the width as they stand in the raw state.
"When judging in the raw state, we ask ourselves 'would you buy those sausages?' before we start cutting them up and looking at texture and filling and firmness and so on. If yes, we proceed to cook. We look at whether there's air cavities, bones or gristle – with this particular grid of sausages, I wouldn't expect to find that but occasionally some slip through. Then we look at the final five or six that we've highlighted as possible winners.
"Whereas we normally have about five to go through to the cooking stage, we selected seven today because we were all vying for one or two that we felt were possible winners."
Commenting on the champion, Fisher said: "It was the firmness of the sausage, the juiciness, the texture of the skin and filling. When it was cooked, that plate disappeared with all the samples on it."
Overjoyed by his new crown, Duckworth said: "I feel absolutely overwhelmed. It's the one thing I've always wanted to win. Years of hard work – we got there."
A big thank you to Viscofan for sponsoring.