AHDB champions British Pork as budget-friendly choice for families
The Agriculture and Horticulture Development Board's (AHDB) highly anticipated 'Feed Your Family For Less With British Pork' campaign returns this autumn to inspire consumers to embrace pork as a delicious, budget-friendly, and flexible choice for their family meals.
The campaign kicks-off on 2 October with the unveiling of the newly redesigned Love Pork website, which offers a modern and user-friendly platform with improved navigation and easy-to-follow instructions. It features an ever-expanding collection of delicious and versatile pork recipes, that are easy to prepare.
The website will include educational sections on pork cuts and nutrition, highlighting the numerous health benefits of eating pork as well as dispelling any myths. Consumers will have the ability to search for recipes based on specific criteria, save their favourites, and provide feedback through the website's new star rating system.
Also kicking off on 2 October is AHDB's collaboration with Tasty UK to engage the 18–25-year-old 'Gen Z' audience, by delivering simple, tasty, and quick pork recipes through popular social channels. The 'Love Pork Student Staples' series on Instagram, Snapchat, and TikTok will provide a fun element to connect with the younger generation and introduce them to the benefits of cooking with pork.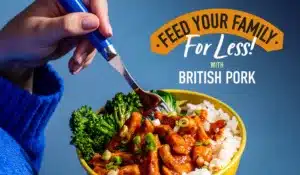 The campaign aims to reach 35 million consumers, with the autumn burst running from 23 October until 4 December, showcasing dishes priced under £1.50 per portion. Recipes such as Cheat's Pork Lasagne, Hunter-Style Pork, and One-Pan Pesto Pork Pasta will entice families to discover new flavours while sticking to their budget.
Advertisements featuring the campaign will be showcased online and on video-on-demand shows on Sky, ITV, and Channel 4. Campaign materials can also be found in eight major supermarket chains, where signage in the aisles, along with on-pack stickers featuring QR codes, will be placed to provide shoppers with convenient access to budget-friendly recipe ideas.
Carrie McDermid, AHDB's Head of Marketing, said: "The 'Feed Your Family For Less With British Pork' campaign aims to inspire families across the UK to cook simple, quick, delicious and budget-friendly British pork meals.
"Showcasing the Love Pork logo with the Union flag and the Red Tractor logo, the new Love Pork website, launching on 2 October offers easy access to mouthwatering recipes that prove cooking with pork can be both affordable and exciting.
"Through our partnership with Tasty UK and engaging with Gen Z on social media, we aim to make cooking with pork accessible and enjoyable for the younger generation."
This year, AHDB proudly includes the term 'British' in its advertising after previous restrictions due to the EU State Aid Rules were removed. Guidance on the new UK rules, as part of The Subsidy Control Act, was published earlier this year, opening the way for this change.
Visit the new lovepork.co.uk to explore the various pork recipes and to access more campaign details, please visit ahdb.org.uk/feedyourfamilyforless2023