A battle royal at Scotland's Butcher Wars
The country's butchers went to war at the weekend as they battled it out in one of the industry's most fiercely contested competitions. Three Scottish champions emerged victorious from the tense 45-minute battle to lift the top titles in the UK's theatrical showdown – Butcher Wars. Run by Scottish Craft Butchers as part of their biennial Trade Fair in Perth, the event attracted top talent from all over Scotland and south of the Border.
Butcher Wars – a theatrical concept imported from Australia – challenged butchers to break down a half lamb (sponsored by Quality Meat Scotland) and a half saddle of pork (sponsored by Robertsons of Ardrossan) to create a show-stopping counter display in just 45 minutes. Each was judged on a raft of criteria including their appearance, butchery skills, food safety, creativity, wastage, health and safety and their final display. More than 600 people attended the event which saw some of the industry's most skilled professionals locked in battle on the show stage.
Representing England and National Craft Butchers, was Matt Everest from South Down Butchery, in Henfield, West Sussex. He said after the event, "I'm still on a high after the weekend at the Butcher Wars 2023! There was some fierce competition. It was great to see all the competitors, showcasing that Butchery can be more than just pork sausage or lamb chop."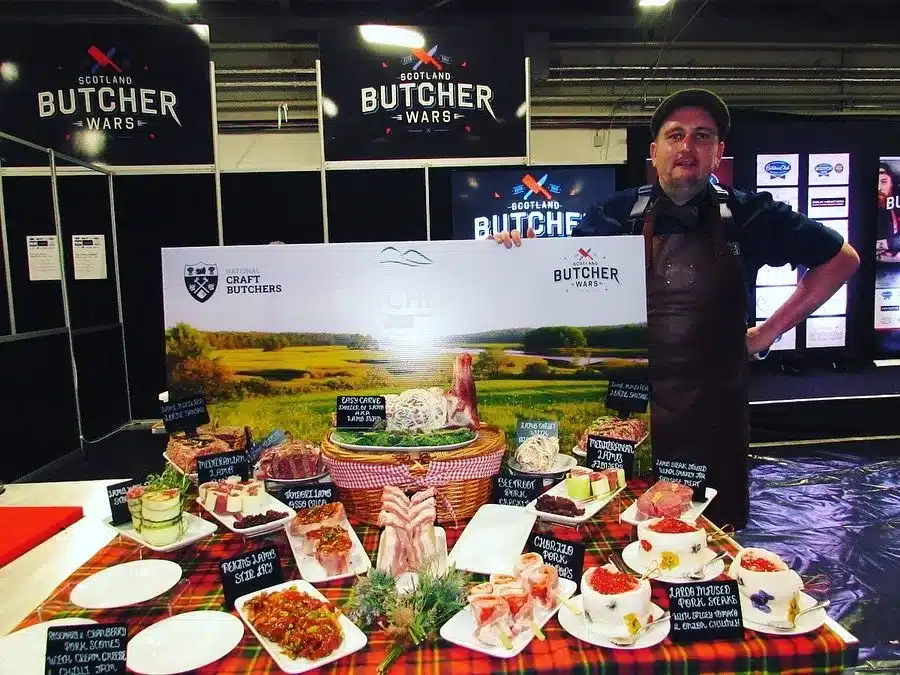 Taking top honours in the pairs competition were father and son duo Richard (47) and Ben (20) Megahy from Simon Howie Butcher in Perth, while the singles title was won by Fife butcher Sean Graham (34), co-owner of Pearson Hepburn & Co. in Kirkcaldy.
Pairs champion Richard Megahy said it was one of the proudest moments of his life when he led his son to victory after a nail-biting finish.
"It was pretty tense," he said. "We had three minutes to go and not a product on the display. We were right down to the wire but when the klaxon sounded, we had made it – 22 products trimmed, garnished, on display and all looking good."
Richard, who has been with Simon Howie for 26 years, is a seasoned competition entrant and a former member of Team GB Butchers. But he puts this latest achievement up there with the best. "It was an emotional day for us," he said. "A just reward for our long hours of practice and the special working relationship Ben and I have. It was so special to win with him at my side. He was outstanding – I'm so proud of how he kept it together and really pulled out something special on the day."
Ben joined his Dad's team at Simon Howie's Perth shop during Covid, after the pandemic closed the college and called a halt to his joinery studies. "I never went back," he said. "It's been great to follow in Dad's footsteps and take on this huge challenge side-by-side. "This is my first competition and to win is just incredible – and on home turf – what a buzz."
Singles champion Sean Graham watched every heat before he took to the stage in the last performance of the day and said the pressure was 'immense'. "I was watching the very best in the country and knew I had not only to match them in speed and skill, but actually beat them," he said.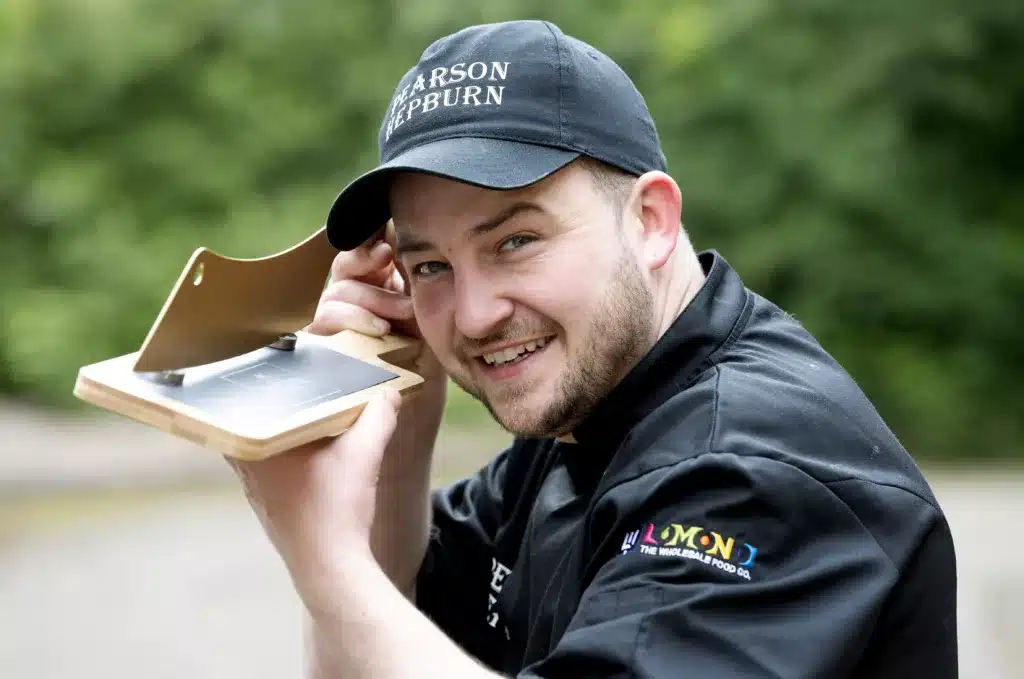 A former trainer for Scottish Craft Butchers modern apprenticeships, Sean was also aware of the scrutiny from many of his former students in the audience who had high expectations. "It is a really terrifying stage," he said, "but I had put in a lot of late nights practising against the clock and I knew I just had to keep it together and do the best I could. "Time just runs away with you. It felt like 10 minutes rather than 45. I needed every last second."
Sean joined the trade straight from school aged 16 and bought into the Kirkcaldy business a year ago. "It's been a great profession for me," he said, "but winning Butcher Wars has to be a career highlight. "Butcher Wars is one of the toughest tests out there and I'm over the moon to have won – absolutely delighted."
Renowned international judge Keith Fisher headed up the day's judging team, praising the standard of skill and innovation on display. The CEO of the Institute of Meat said the six pairs and eight single competitors had shown an "outstanding" level of calm under intense pressure and delivered exceptional product displays.
"Butcher Wars brings out the best in these highly committed and talented butchers," he said. "To deliver such innovative and impressive counter displays from sides of meat in just 45 minutes is a real test of skill. "Our winners were outstanding – perfect ambassadors for our local butchers."
Scottish Craft Butchers President George Jarron said Butcher Wars had proved a highlight of the industry's calendar. "It was a thrilling spectacle that pitted the best in the business against one another," he said. "The audience witnessed an incredible display of butchery skills, and the atmosphere was absolutely electric as the countdown began piling pressure on the competitors to complete their task. It was a battle royal worthy of the event. "I feel very proud of our country's local butchers when I watch how talented and innovative they are and knowing that those same skills and ideas come into play every day as they meet their customers' demands," added George.
"The Trade Fair was a huge success with record crowds, over 30 exhibitors, our first ever World Haggis Championship, the Pork Sausage Championship, the Scottish Sausage Linking Challenge and the presentation of Craft Skills Scotland meat industry achievement awards and product evaluation awards. "It was a terrific day out for the country's butchers and huge congratulations to all who took home a trophy."